It was pumpkin carving day at our house today!
The boys were up to their elbows in guts but the hard work paid off as we enjoyed the glow from our jack-o-lanterns!
Afterwards, I rinsed the seeds we saved, tossed them with olive oil, salt, and spices and turned them into yummy, crunchy goodness!
Toasted Pumpkin Seeds
Start with about 3 cups rinsed, well-drained pumpkin seeds. Preheat your oven to 350 then spread seeds on a baking sheet, drizzle with olive oil, and season with generous amounts of your favorite seasonings (I used kosher salt, pepper, onion powder, granulated garlic, cumin, coriander, and a small amount of cayenne pepper).
Toss to coat. Bake at 350 for 30-40 minutes, scraping and mixing seeds every 10 minutes, until seeds are beginning to brown, smell toasty, and just begin to pop. Scrape up any stuck seeds and spread to cool.
Store at room temperature in an airtight container for up to a week or so...if they last that long! As Little C says, "these are so AWESOME!"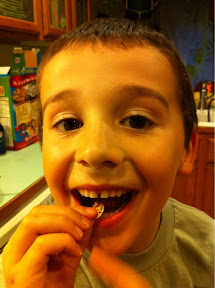 And they just might be the perfect snack for this time of year; pumpkin seeds are great source of zinc which boosts your immune system! (For more health benefits of pumpkin and more pumpkin recipes, check out last year's
Hey Punkin'
and
I Love Pumpkins
posts.)